Welcome to the Rebecca's Creations web site. You will find exciting new ideas and that perfect gift you can't resist. From my home to yours at a click of a key.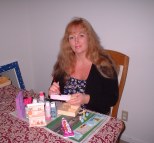 My name is Rebecca and I personally want to thank you for visiting my web site. I hope you will enjoy looking at my creations, as much as I loved making them. I have always had a passion for sewing and painting but it wasn't until now, that I decided to use it for more than a hobby. All of my dolls and stuffed animals are sewn by hand. They are extremely soft and cuddly, I use Fiberfil for their insides and the softest plush fur, that I can find, for the stuffed animals.
Each creation is done without a pattern, I try to keep them unique and as individualized as possible. So when you order one of my items, remember it is not part of a factory, mass produced product. Instead they are made by my loving hands and are individualized to keep their own personality. I do make items which are similar but never exactly the same.
The sand and shell art are more individualized than the toys because I personally collect the sand and shells from the beach. Often I can not duplicate a piece because it was a one of a kind item I found, on the beach. I live in Coral Springs, Florida and it is a twenty minute drive to the beautiful Atlantic Ocean. I may look a little crazy digging in the sand like a kid but I truly enjoy the time I get to spend there.
If you order anything from the web site the price is exactly what is listed. All tax, shipping and handling are already included. So the price you see, is what you pay. No extra charges.
Thank you for visiting my web site. I welcome you anytime and look forward to hearing from you. All questions and comments will be read by me and I will personally answer them.
Sincerely,
Rebecca