Dolls & Stuffed Animals
All of the dolls are soft and cuddly.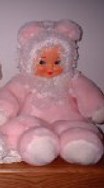 Picture 1
This baby is my pride and joy.
I can also make them in kitty outfits
or bunny or even a puppy suit.
They are twelve inches tall and a handful
of love.
Price for one $15.00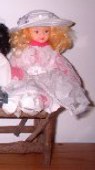 Picture 2
This doll is about five inches tall and her
body is all cloth. The ones who have on dresses
also have on bloomers. They are also available
in short hair. Price for one $7.00 chairs not included.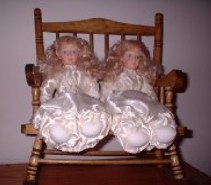 Picture 3
These are the twins they always stay together and
would be very unhappy apart. They have soft cloth bodies
and wear bloomers, their dresses are very silky and shiny.
They are each ten inches tall and have long blond hair, brunette
is also available. Ask for the color of dress you want.
Chair not included. Price $20.00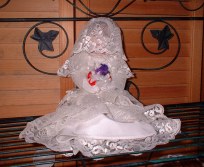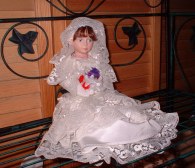 Picture 4
This is the lonely bride doll. She had beautiful lace, layers on her dress. And a small train
and a full vale. Her hair is pinned inside of the back of the vale. She has on lace bloomers
and her body is all cloth and very soft. She is about ten inches tall and can be ordered in
blonde. Dress always comes in white lace. Price $10.00
These dolls in this next section are all iron on faces. Their bodies are all cloth and are
available in different skin tones and different colors of curly hair. Pick the style you like
and tell me what skin tone (white, peach, tan or brown) and hair color along with outfit
colors you want your doll to come in.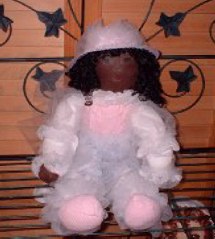 Picture 5
This darling little doll is all dressed up
and ready for a party. She is very
cuddly and beautiful to look at.
She is wearing a jumper but is also
available in a dress, please specify
choice of outfit. About 10 inches
tall. Price $10.00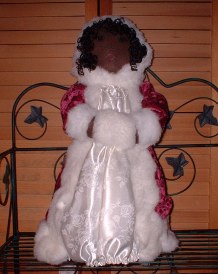 Picture 6
This doll is a great winter decoration. She has
a soft cylinder part for her legs and feet, so
she is able to stand on her own. She is about
eighteen inches tall. Price $15.00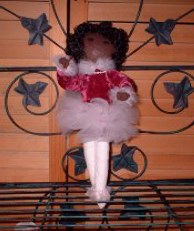 Picture 7
My little ballerina, she has little delicate
legs and a long pony tail in the back.
She is sewn in this pose and can not
be switched around. She is
about 7 inches tall. Price $7.00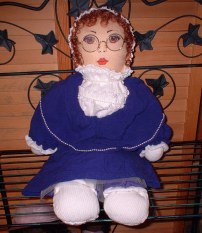 Picture 8
This doll is prim and proper and is always
on her best manners as she watches everything
through her gold rimmed glasses. She is
about two feet tall. Price $15.00
Picture 9
This is a fun loving red head. Her
hair is made from ribbon and the
red trim on her outfit is shiny fabric
paint. She is soft and cuddly.
She's about 8 inches tall.
Price $7.00
We are now entering the stuffed animal section. They are all soft and stuffed with Fiberfil.
My animals are stuffed just right to be extremely cuddly, none of them are hard or ridged.
It is hard to part with my babies but after all I did create them to sell them and share the
love with you and your family and friends.
They are all hand stitched and reenforced to assure a strong, lasting toy.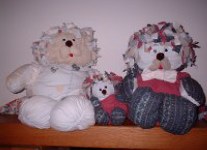 Picture 10
This is my lion family. The are incredibly
huggable and wish to be sold as a family
but can be sold separately. You can choose
the colors that you want. I can also make
other animal in this same fashion, pick the
animal you like and let me know what you want.
The parents are 18 inches tall.
The baby is about 8 inches tall.
Price for the family is $25.00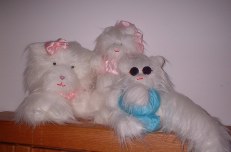 Picture 11
This is my cool cat family. The mother is about
three feet long from head to tail. The babies
are about ten inches tall. They are available in
in other animal types and different fur colors.
Long fur is only available in white.
Price for family is $25.00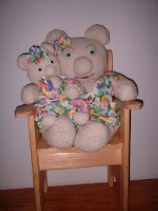 Picture 12
This is a mommy and baby bear, they
are made from a soft sweater like material
They are very delicate and should only be
for 8 year olds and up. It is stitched together
very well but the material itself is extremely
soft. You can order this same style in a
stronger material making it suitable for all
ages. Any color available, also indicate
color of clothing. Mom is about two feet tall.
They come as a set. Price $25.00
Chair not included.
Picture 13
These are cuddly stuffed animals. The little girl in
the middle is soft and sweet she is sucking her thumb
and about six inches tall. The one on the left has
pink poke-a-dots painted on with fabric paint that
won't come off. Price for one is $5.00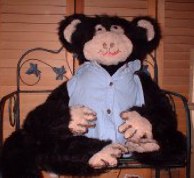 Picture 14
This monkey is extremely soft and his
arms wrap around. His hands are stitched
with embroidery thread and his tail is full
and about a foot long. The rest of his body is
about two feet tall. His nose and mouth
are painted on. Price $25.00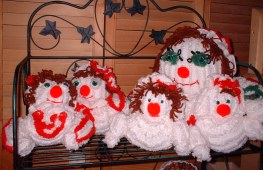 Picture 15
This is a family of soft cuddly somethings. They
are not any specific thing other than sweet.
the mom is about one foot tall. They are sold
together as a family. Price $15.00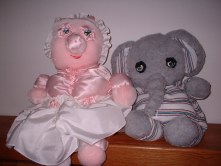 Picture 16
These two are just good friends and are sold
separately. The piggy is a delightful tutu wearing,
beauty. She is two feet tall and soft and shinny.
The elephant is a little shy and likes to wear
pajamas all of the time. A great bed time friend.
The elephant is almost two feet tall and the body on this
one is extremely soft. Price for one is $15.00